AROMICS attended to Catalonia Bio Lessons Learned "The Social Return on Investment in biomedical companies, a rising value?"
08/05/2019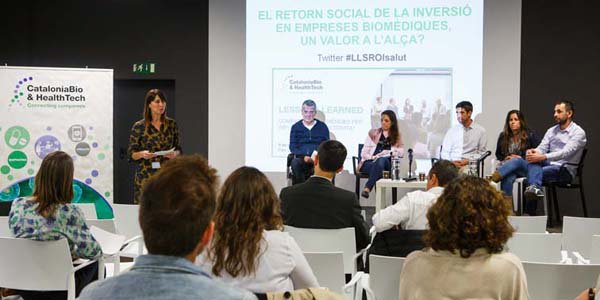 Lessons Learned session, on 9 May in the Barcelona Science Park, featured entrepreneurs, investors and heads of organisations working to have an impact on society, who had the opportunity to share their points of view and experience in a dynamic, participative debate with the whole audience.
As such, BERMES is a highly innovative project to come up with solutions to a real unmet medical need: to advance on a new therapy for mesothelioma patients. Mesothelioma is a rare, aggresive and incurable cancer related to asbestos exposure. It is expected that generate return that goes beyond just economics, raising awareness of the tangible and intangible social impact of its activity (Social Return on Investment or SROI). SROI is aligned with the founding principles of the European policy framework Health 2020 and the 2030 Agenda for Sustainable Development.